For gamers, the fact that the video game industry is growing isn't much of a surprise. However, it might surprise them to know that one of places where it's growing most is Atlanta, GA. Over the last few decades gamers have associated game development in North America with the West Coast and the North West — particularly places like California and Seattle. If any place in the South was known for gaming it was Austin, Texas where companies like Bioware and Trion keep additional studios.
Atlanta, on the other hand, wasn't widely known for its contributions to the video game industry until CCP — creators of EVE Online — bought White Wolf, the company responsible for the tabletop/LARP RPG series World of Darkness. CCP purchased the company, and announced the World of Darkness MMO in 2006. Because White Wolf was based out of Atlanta, CCP decided to set up a studio in one of the city's suburbs, becoming the largest game development company in the area at the time.
At the same time, another game company had set up shop just north of Atlanta in 2005, and begun working on their first online game, Global Agenda, which launched in 2010. That company, now widely known for its MOBA, SMITE — and its growing eSports program — is Hi-Rez.
Over the last decade Atlanta, Georgia has become a hotbed for videogame developers and related industries, with more than 90 companies in the area developing games, gaming-related technology and more.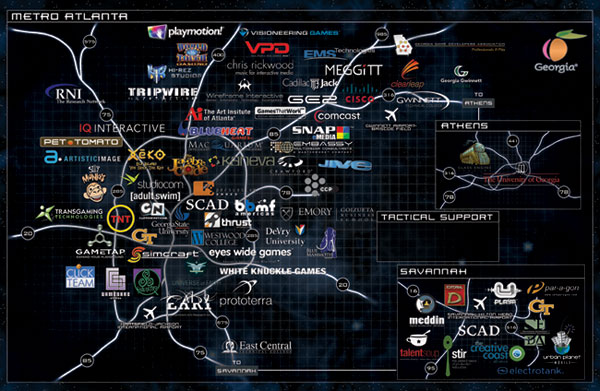 Why the boom? There are a few reasons, so let's start with personality.
For gamers and geeks living in the South, it's not surprising to hear that Atlanta is — and has been — a great city for us. After all, it's the town that spawned Vampire the Masquerade and it's been home to one of the largest and most open geek conventions for years — Dragon*Con. In fact, it's one of the few cities in America to host a cosplay parade. There's plenty of food and opportunities for entertainment, from theaters to themed parties. And as far as city living goes, it's more affordable than a lot of other places.
With all the amenities and the cost of living bonus, it's no wonder that geeks, gamers, artists and musicians would move to Atlanta — or game developers for that matter.
And then there's the financial benefit — to both Georgia and game developers.
Gamers and geeks provide serious revenue to the city of Atlanta and its suburbs. Dragon*Con alone brought over 60,000 attendees into the city and generated approximately $65 million in revenue. This was for a four day convention. And Dragon*Con is hardly the only geek-centric convention in the city. Atlanta has what many have come to refer to as "convention season," full of a variety of cons people can attend and most — if not all — of them have some form of gaming element. Last year, the popular anime convention, MomoCon, hosted an indie gaming section and held a variety of panels where fans could go to listen to members of the game industry talk about development, their experiences and more. Other non-game centric cons such as Anime Weekend Atlanta (AWA) have begun doing the same as well.
In addition to these conventions, events held by the game developers themselves have also become a big draw for visitors to the city looking to get their nerd on. For the past three years, Hi-Rez Studios has hosted an eSports tournament pitting teams against each other in their MOBA SMITE for a chance at a World Champion title and a large cash prize. Players, fans, and press travel from all around the world to be at the event — held at venue in Marietta, GA just north of Atlanta.
Due to being a very niche-specific event — and comparatively a much younger event — this tournament doesn't yet bring Dragon*Con levels of visitors into Atlanta. However, it does bring in nearly 3,000 gamers into the area over a period of 4 days. That's 3000 people who are staying at local hotels, eating in local restaurants, shopping at the local mall, and — through a partnership with Hi-Rez spending money on SMITE gear manufactured by local companies.
In addition to this, Hi-Rez will be hosting a tournament for one of their newer games, Paladins, later this Spring. And they're not the only ones. Blue Mammoth Games recently announced that they will be holding the first ever eSports tournament for their popular game Brawlhalla. This event will be held in Atlanta this fall and will offer players a chance at a $50,000+ prize pool.
Let's not forget those tax breaks and other incentives.
While a lot of states are cutting back on tax breaks for the creative industries — video game development, film, and the like — Georgia has no problem offering them. Georgia offers incentives to not just game development companies but other media companies as well. In the past few years, several television shows and movie companies — including Marvel — have moved their base of operations to the state to take advantage of it.
To make Georgia an even more alluring prospect for these industries, the state even works with them and the local area schools to create programs that will prepare local area residents to work in them. The idea is to give game and entertainment studios the people they need to get the job done without having to look outside the state. During the recent SMITE tournament we spoke with Hi-Rez COO Todd Harris about this initiative and he noted that he's personally worked with several schools in the area, consulting on programs just like these.
Of course, there's the biggest boon of all. The gamers themselves.
One of the biggest benefits of having a booming gaming industry in a city like Atlanta is that it makes it a really appealing place for gamers and nerds to come live. In a recent post, we spoke about the spending habits of gamers. Gamers are more likely to spend money on high tech items and early adopter items than the average person.
They're also pretty big on spending money on experiences. A good example of this would be a local gamer-centric bar/restaurant named Battle & Brew. Gamers can go there, play games with friends and have a full dining experience at the same time. And all of this doesn't even take into account the amount of money gamers are spending at comic book shops, regular restaurants, the movie theater and more.
Another side effect is that Atlanta is fast becoming home to gamer, and geek-centric media — like Gamer Launch. A wide variety of people who make their living in the gamer media sphere, from Twitch streamers, to YouTubers, to media networks now call Atlanta home. Local area cosplayers, artists and crafters are adding to their portfolio with podcast, blogs and streams of their own — often streaming games for their fans to enjoy. Even TV stars are doing it. Chandler Riggs — The Walking Dead's Carl Grimes, and an Atlanta local — has been known to hop on Twitch to stream some games with his friends.
So far, the gaming industry has been a really beneficial addition to the Georgia economy — and Georgia seems to be doing well by the industry, too. As time goes on, we expect to see the industry flourish in the area, adding jobs and generating income for some time to come.